LWV Holds Avon Township Candidate Forum
For voters who gave up their evening to hear from all the candidates running for the Avon Township offices, those running on the Avon Action slate weren't willing to give up theirs and, other than one, made it quite clear that they were unwilling to answer voter's questions.

Candidate Chris Larson was the lone person on the Avon Action slate willing to break ranks with his running mates and appear before a decent crowd of voters and supporters to answer their questions. Others on the Avon Action slate were all "No Shows".

With only one candidate appearing for Supervisor (Douglas Raul Williams), one for Assessor (Wayne George Flary), and one for Clerk (Patricia Smart), more time was devoted to hearing answers to audience questions from the Highway Commissioner and Trustee candidates. In fact, the portion that was originally scheduled for Trustees of one half hour was extended to an hour and a half. That gave all who participated plenty of opportunity to state their case and get plenty of exposure both on WRLR-FM which was broadcasting live as well as online through upcoming Comcast re-broadcasts (not to mention here on this local news blog).
Will Voters React To Being Snubbed?
I don't make endorsements like other news media and instead recommend that everyone become an informed voter by going out and meeting the candidates, listening to their answers at these types of forums, and becoming involved in the process. If I did make any endorsements it would NOT be for candidates who elect to ignore the voters and be disrespectful of their time. Unfortunately an "empty chair" cannot answer voters questions.
The following 2 1/4 hour video includes the entire evening of Q&A from all who participated.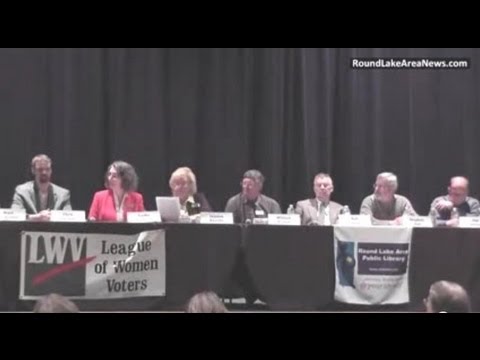 You can hear questions that were asked the candidates, INCLUDING the Supervisor and Assessor at the recent Hainesville candidate forum moderated by the same LWV moderator HERE