Overcomes "Sour Grapes" Tactics With Landslide Victory
With a resounding victory over their opponents, the Citizens First slate was able to overcome negative campaign tactics attributed to their opponents running on the Community Commitment slate by a 3:2 margin. Mayor elect, Daniel MacGillis, along with clerk candidate Patricia Blauvelt and trustee candidates Susan Triphahn, Don Newby, and Henry Frye Jr. held their election returns party at Four Coynes in Round Lake.
After stopping by several other election watch parties and wishing everyone well, the first words I heard upon entering Four Coynes was 'We Won!". By the time I had arrived enough votes had been reported that showed a huge lead over their opponents. The final tally after all the early votes were tabulated were as follows:
For Mayor:
Daniel MacGillis = 639
James Dietz = 448
For Clerk:
Patricia Blauvelt = 630
Joyce Swieton = 447
For Trustee:
Susan Triphahn = 632
Don Newby = 617
Henry Frye Jr. = 587
Michael Blum = 401
Dave White = 383
Sonia Sandoval = 382
There wasn't much light at Four Coynes to shoot a decent video but you can get the idea.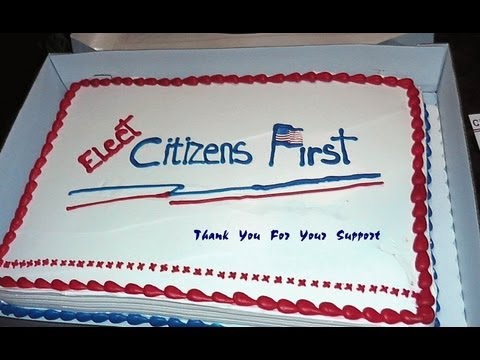 Just prior to Mayor-elect MacGillis making his thank-you speech he was presented with the Mayor's Star from his wife, Anne, that his father wore back when he was Mayor in the early 60's. She had been saving it all these years and as you can see in the video below, it was an emotional scene as MacGillis promised his Dad that he would "do a good job".