SWALCO Makes Pitch For Rate Increase

The Village of Round Lake held marathon back-to-back meetings on Monday evening March 18, 2013. Lasting over two and a half hours, the Regular meeting was immediately followed by a "Committee of the Whole". During the regular meeting several residents spoke up during the Public Comment portion. One of them was Michael Blum who is running as a candidate for Trustee on the Mayor's slate. Blum was visibly upset over what he felt was a witch hunt by a current trustee who filed a FOIA request based on a tip that a 911 call was received from his address. Another was a resident, Joan Spilis, who voiced her concerns over the proposed Groot waste transfer station in neighboring Round Lake Park at Rt. 120 and Porter Drive. Another resident, who monitors the lake conditions, urged the Board to adopt a resolution supporting the use of phosphorus free fertilizers and detergents in the Village.
There was a presentation by a representative from SWALCO asking for a $.25 rate increase over the current $1.00 rate. After much discussion the request was voted on. You can hear all of the discussion in the following video.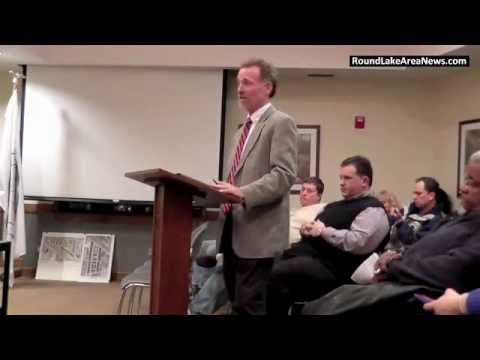 Trustees Press For Consensus on Waste Transfer Station
Several Trustees felt that it was time for the Board to take a vote and let the public know where each one stands in regard to the proposed Groot waste transfer station. Since Mayor Dietz has publicly made comments in the press about several Trustees positions in regard to the proposed transfer station, the Trustees felt it was time for everyone to know the facts on where they each stood. The Trustees tried to make and pass a motion for the Board as a whole to state the Village of Round Lake's position but since the topic was not on the agenda for the required time no action, other than a lot of discussion, was taken.
Also, during the Committee of the Whole meeting, a slide presentation was presented by the Village Administrator, Marc Huber, and Village Finance Director/Treasurer, Steven Shields showing the proposed Budget for 2013-2014. Handouts were provided that included everything shown in the presentation. You can view the entire Committee of the Whole meeting below.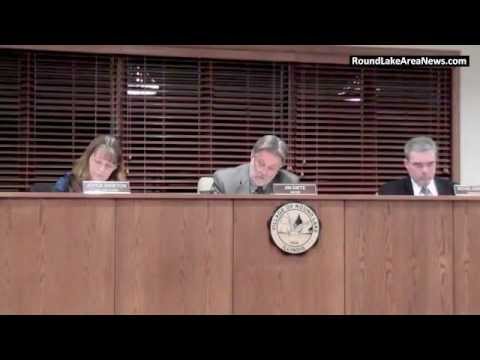 These are complete, unedited videos