If you ever want to draw a huge crowd to your business, simply invite the Budweiser Clydesdales to town. That was the case when Antioch's recently opened Anastasias Restaurant & Sports Lounge invited the Clydesdales to help kick off a "Bud Party" as they called it.


The Clydesdales started getting hitched up at the local Piggly Wiggly around 4:00 PM and by that time the parking lot was already filled to capacity as people came from far and wide to see the event. From my estimation there could have been in excess of a thousand people there to watch. The first item unloaded from the caravan of transport trucks was the Budweiser wagon. As soon as it was on the asphalt a swarm of workers gave every part of it a spit shine. Then they began unloading the Clydesdales one-by-one until they had eight of them all hitched up and ready to go.
At that time I moved to a location where I could videotape them coming by but to my surprise they stopped right in front of me. Yippee! After several minutes for photo-ops they proceeded to travel down several local streets until they finally arrived at Anastasias which is located at 950 Hillside Ave in Antioch, IL 60002.
Enjoy the video and if you want to share just the video there is a YouTube link below it.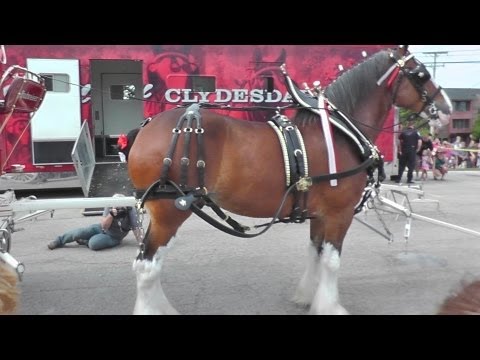 Share the YouTube video link = http://www.youtube.com/watch?v=hTkiy2MmaMo