Jarratt Blames Both Sides For Impasse
For those of you who were unable to attend the 2nd Grayslake D46 Teacher's Strike Townhall Meeting held on Saturday, January 19th at the Grayslake State Bank of the Lakes facility, I have included a full length video of the meeting below. Lennie Jarratt, founder of For Our Children's Future, had invited representatives from both the Grayslake D46 school board and the union, along with open invites to candidates running for the four school board vacancies. It was disappointing to everyone who showed up that not a single one of them accepted that invitation.
The Round Lake Area D116 school board is planning on doing something extremely radical to avoid being taken over again by the State due to their continued failure to "make the grade" when it comes to State minimum learning requirements and obtaining Title 1 funding. Jarratt is proposing something equally radical compared to the path many schools boards continue to follow. If you listen to his presentation and look closely at his charts and research you might begin to agree that rewarding new teachers in their early years, and thus retaining them, makes more sense than paying a 'bump' raise of 6% during the last four years of a teacher's career. Jarratt's charts show that a teacher ends up receiving almost as much per year in retirement as they were before they got their 24% (6%x4yrs) increase by retiring at 75% of their now inflated salary.

Jarratt also questions why teachers are paid more by "lane changing" to a higher pay scale once they reach another education level since the school paid for them to receive that added education in the first place. He points out that is like paying them twice. I know when I was fresh out of high school and working part time, I went to college to get a better paying job and nobody was paying for it except me. Maybe Jarratt brought up some good points that new candidates and those doing the current negotiations might benefit from hearing. In the meantime, the only ones suffering are the children who will also have to make up the lost days in the summer when parents may have family vacations planned.
Current D46 school board member Michael Carbone's name popped up several times during the meeting including Jarratt pointing out that he was a lone voice on the board who saw a lot of potential in implementing portions of Jarratt's suggestions. Carbone had elected not to run for re-election when he pursued running for Lake County Board this past November. Others in the audience suggested that there should be several write-in candidates, including Carbone but with five people currently running for four positions, Jarratt pointed out that might be a long shot considering the total number of votes needed to win as well as the difficulty of running as a write-in.
(Note: Some of the parents did not use the microphone and spoke rather low towards the front of the room so their comments/suggestion may be a bit difficult to hear since I was positioned at the back of the room.)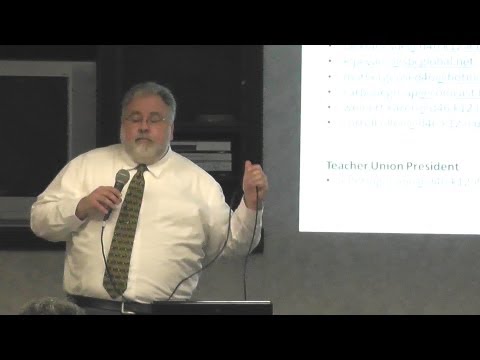 You can view the presentation charts that are being displayed in the video HERE.