Supervisor Rusch & Assessor Ditton Balk at Questions

If you came to the April 16, 2013 Avon Township Monthly Board meeting looking for answers, you probably left without getting them since Township Supervisor, Lisa Rusch, as well as Township Assessor Chris Ditton preferred to avoid giving any specific answers to several questions from the Trustees and members of the audience. In the video below at about the 23:30 minute marker you can hear Assessor Ditton balk at giving any explanation when asked about an outstanding bill on the agenda for expenses he incurred. Unless you know every house bill (HB) by memory, most in attendance also had no idea what the charges were for. Rather than simply answer, which he finally did, Ditton preferred to play hide and seek with Trustee Doug Williams which required a persistent Williams to finally get an answer. At the 36:24 minute marker in the first video below you will hear a member of the public asking that a list of who Assessor Ditton (who had conveniently left) spoke with in Springfield be provided. The Board said they would take that request under consideration.
Supervisor Rusch's Repetitive Answer: "I Don't Know"

After the break for the Board's Executive Session, the meeting got a bit more boisterous during the public participation portion. Several audience members asked questions related to the recent March 2013 Avon Township Newsletter that was resurrected after being dormant for a couple of years. When Supervisor Lisa Rusch was asked (38:00 minute mark in first video below) who decided to publish it, who paid for it, what did it cost, and why weren't all the Trustees included in it, her answer was simply "I don't know". This answer, coming from someone who helped elevate thyself to the position of Supervisor prior to the recent election, dumbfounded most in attendance. After other questions continued to be asked regarding the newsletter, such as who was involved in the writing, fabrication, and creation of the newsletter, Rusch finally stated that it was Highway Commissioner Tom Brust (52:30 – 53:30 minute mark) "He's the one who set it up". By then, even Assessor Ditton had split and was not available for public questions. Supervisor Rusch stated earlier, while the budget was being discussed, that the newsletter would be published in March and September of each year due to the cost. I would guess that she has a pretty good idea of what it costs even though she refused to say what the most recent one cost, saying "We haven't got the bill yet". It would make the average attendee wonder if they solicited bids for the March 2013 newsletter and whether they will approve the invoice when it arrives since new Board members will then be sworn in. Will Tom Brust be left holding the bag or was his name just thrown out there because he was absent?
How Do Donations Flow In & Out for Food Pantry?
In the following video (14:50 minute mark) you will hear Supervisor Lisa Rusch attempting to explain the procedure of how monetary donations coming in for the food pantry are handled but fails miserably at it. She finally had to ask Avon Township Community Foundation President, Wendy Warden to explain the process. You won't want to miss my next article which will be about the Avon Township Community Foundation's current tax exempt status.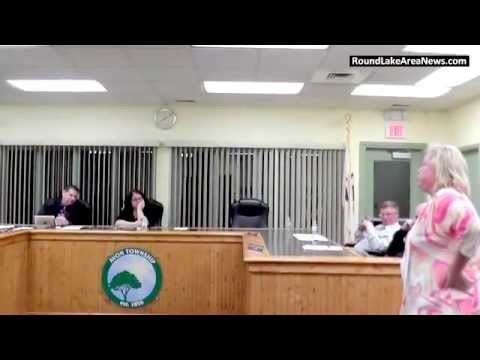 The regular monthly meeting was followed by the Town of Avon "Annual Town Hall" meeting included below in its entirety.