Proposed District Wide Changes for District 116
Parents who have students in Round Lake School District 116 as well as concerned taxpayers may want to start attending the local school board meetings. D116 recently received a grant to build a school-based clinic at the High School campus and most recently the school board discussed placing a referendum on the upcoming April election ballot asking for a $36,000,000 bond approval to address the increased number of student enrollment. Here is what the school board plans to approve at the meeting in order for it to appear on the April election ballot:
NOTICE IS HEREBY GIVEN that at the consolidated election to be held on Tuesday, the 9th day of April, 2013, the following proposition will be submitted to the voters of Round Lake Community Unit School District Number 116, Lake County, Illinois:
Shall the Board of Education of Round Lake Community Unit School District Number 116, Lake County, Illinois, build and equip additions to and alter, repair and equip the Round Lake High School Building, including constructing new classrooms and a new student commons, demolishing a portion of the building, installing technology and security improvements and constructing improvements to enhance student circulation and issue bonds of said School District to the amount of $36,000,000 for the purpose of paying the costs thereof?.
Remember that the school officials who are asking for MILLIONS of tax dollars are the same ones who are hoping to convince you that State and Federal grant money is NOT "local taxpayer" dollars, as you can hear in the following video when they were discussing the school-based-clinic.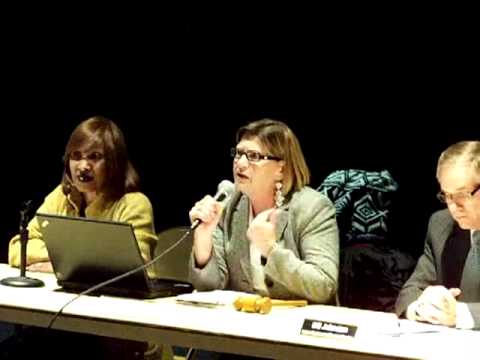 Today, I received the following information which doesn't seem to appear on the evenings agenda unless it has been cleverly disguised as item VIII, C: which states "Acceptance of restructuring plan". You may want to attend the Monday, January 14th meeting starting at 7:00 to find out more. That is also when they plan to vote on the bond referendum that has been suggested by their financial liaison.
At the Monday, January 14th School Board meeting, a vote will take place to create grade based schools for District 116. Instead of students attending neighborhood schools, they would transition from grade based area schools throughout the district every 2 years or so. I am not sure of the specific breakdown of which schools would house which grade levels as the District has not provided any notification of their intent or information on how this plan is to be implemented to parents of district students or Round Lake tax payers. This change would impact all District 116 elementary schools and it's students.
Residents will have an opportunity to express their concerns to the board prior to their vote at the School Board Meeting Monday, January 14th. The meeting will take place in the Round Lake High School library at 7:00pm. It is important for the community to be informed of this information and to attend this meeting.
For those who are not familiar with where the High School Library is located in the building, simply use the Main entrance, turn to the right and then look towards your left.