First up were candidates for RLA School District 116
The League of Women Voters in conjunction with the Round Lake Area Library District wrapped up their two-day candidate forum event on March 20, 2013. At this evenings forum the candidates were those who are running for school board positions with Round Lake Area School District 116, Mayoral, Trustee, and Clerk positions in the villages of Round Lake and Round Lake Park. There were a number of candidates that were unable to attend which is always disappointing to those who show up to hear more than what is available as a "canned" statement on their respective websites.
The first group to speak were the candidates for Round Lake Area District 116 school board positions. Only two of the five candidates participated, newcomer Gema Mariscal who was very impressive with her answers and current member Ann Welk. The moderator for the evening was Rosemary Heilemann from the Lake Forest-Lake Bluff LWV, who did a fantastic job of merging similar questions and moving things along in a very professional way.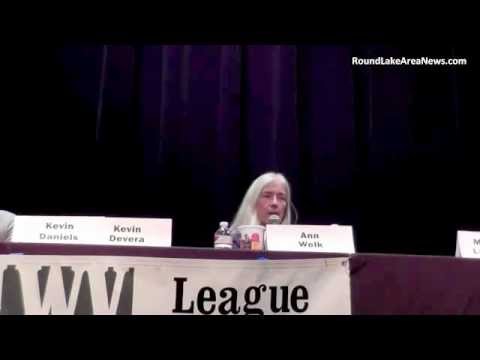 Candidates for the Village of Round Lake
Next up on the evenings agenda were the candidates running for offices in the Village of Round Lake. Since only one candidate for Clerk, Joyce Swieton, participated, she was allowed a short time to make a presentation and no questions were allowed. Next up were the two candidates for Village President, James Dietz and Daniel MacGillis, who will be listed together on the ballot with voters needing to select only one. They made opening remarks and took numerous questions from the audience as did the Trustee candidates who participated, Michael Blum, Sonia Sanoval, David White, all from the Community Commitment slate. Although the trustee candidates are running on slates, as the moderator pointed out, they will all be listed individually on the ballot and voters will be asked to pick only three from the list.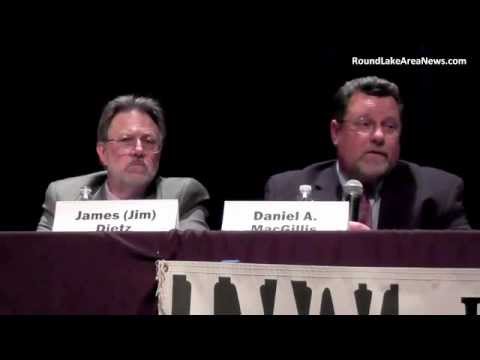 Candidates for the Village of Round Lake Park
Last but certainly not least were the candidates for offices in Round Lake Park including a current (Linda Lucassen) and former trustee (Kathleen Pender) who are running to replace the current Mayor who did not seek re-election. Since neither candidate for the Clerks position participated the moderator moved on to asking for opening statements from the Mayoral candidates and the Trustee candidates who participated which were Robert Cerretti, Raeann McCarty-Robles, Donna Wagner, and David Christensen. They all fielded quite a number of questions of which you can listen to their responses in the video below.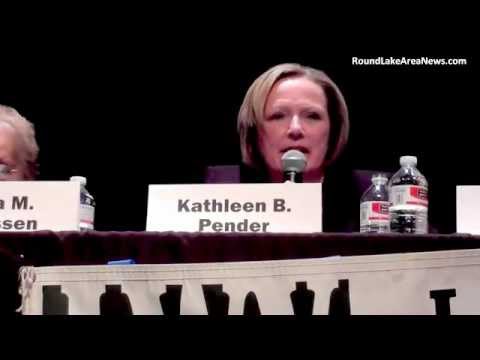 For those of you who would like to hear responses from two recent Avon Township candidate forums, simply click on the Home page tab and scroll through the recent entries.