Soldiers Were Honored at Two War Memorials
With early afternoon rain in the forecast, Round Lake Area residents and Memorial Day Parade participants kept their fingers crossed that the parade, which started at 10:00 AM, would be completed before the drops started coming down. With a little help from Reverend Lisle Kaufman and his connections above, not only did the parade finish with everyone staying dry, but also the wreath ceremony that followed in Round Lake Beach. There is always a wreath ceremony in Round Lake as well, at the Memorial located across from the train station at Cedar Lake and Main Street.
As in the past, the firetrucks and emergency vehicles did not sound their sirens as it has become more of a silent honorary parade rather than one with a lot of loud noise. This year there was only one marching band so it was extraordinarily quiet. Local officials turned out as well as our lovely Round Lake Area Queens and Little Misses. There was plenty of candy being tossed which is always a delight to the kids, many with bags full by the end of the parade. I can't list everyone I saw in the parade but you will see our School Board President Nanci Radford as well as 10th Congressional District Congressman Brad Schneider who was at the wreath ceremony.

The Memorial Day Parade participants included the Communities of Round Lake, Round Lake Beach, Round Lake Heights, Round Lake Park, and Hainesville. In the following video the noise is not threatening weather related, just some directional mic noise from the wind.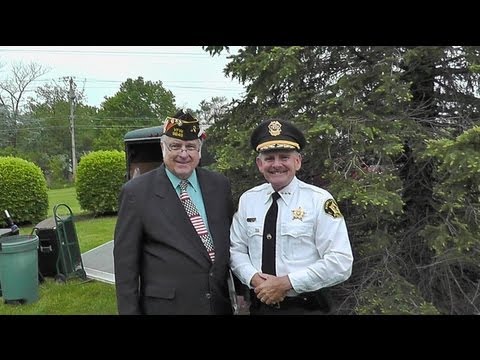 That's Reverend Lisle Kaufman and Round Lake Beach Police Chief Bitler in the video photo