After Watching the Video, See If You Don't Agree

I've had a bit more time to look over the Round Lake "Sour Grapes" site which I will continue to not name since the "Concerned Group" behind it prefers to remain anonymous. What struck me as rather odd is that a "concerned group" of residents only has a problem with the candidates running on the Citizens First slate and absolutely no problem with candidates running on the Community Commitment slate. It's also unusual that both the slate that is "suddenly" aware of the sour grapes site and now promoting readers to look at it has their campaign site registered and hosted by the same exact companies. Now, as a customer of both GoDaddy and 1and1 domain registrars, I am quite aware that they have thousands of sites registered. Often these registrars offer a minimum start-up site with only a few pages for about a month at no added charge, hoping that you will outgrow it and need more pages. I'm sure that if there was more time between now and the election a court order would force the registrar to divulge who the person is that registered both sites, but trying to get a company operating out of Canada to respond to a U.S. court demand would take us way beyond the election.
In my previous post I included information off the "sour grapes" site that stated that Michael Kohlmeyer was seen removing an opposition sign in the early morning since you could see the street lights still lit up. I enhanced the two photos and drove by the location when I was out and about on Friday. What I discovered was that the sign in question was on Kohlmeyer's property and he had every right to remove it since he is supporting Citizens First. This whole sign removal thing was simply a setup with someone lying in wait with a camera knowing he would remove the sign when he showed up for work. It's just another example of how dirty politics in the Village of Round Lake has become.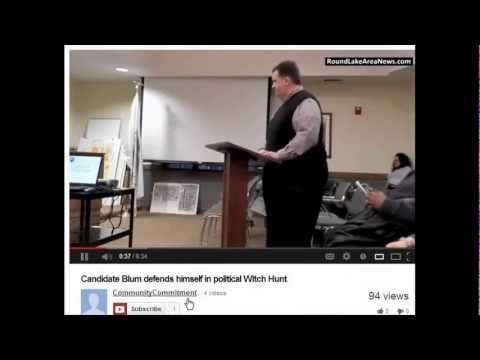 The last photo in the video appears to connect the dots as to who is behind the sour grapes website. Most candidates and their slates sign what is known as a Fair Campaign Practices Act form so more than likely the Community Commitment did also. Initially, the video that I allowed Michael Blum to use a portion of appeared on the Community Commitment website because the portion showed him getting an apology from one of the current trustees who looked further into a 911 call made from his residence over a family domestic dispute. (Note: I did NOT tell him that he could 'host' a portion, only 'use' a portion which is quite different). More than likely a few of the other videos on the sour grapes site also appeared on the Community Commitment website, such as one showing Sue Triphahn speaking about the Groot transfer station and SWALCO. When someone decided that just watching and listening to a video was not enough and you "needed" some help, words were overlaid on the video. How can you use a video with a lot of overlaid negative comments added onto it and still abide by the Fair Campaign Practices Act? Thus, my theory is that the idea of creating a stealth site was hatched where you could display the "coached" videos. That is the only location where the video of candidate Daniel MacGillis, which included a lot of negative commentary overlaid onto it, ended up. And like the last photo shows in the above video, guess who is hosting it on their YouTube channel. It's also worth mentioning that there are only four videos uploaded on the Community Commitment YouTube channel, including the Michael Blum video which appeared on their campaign site for a short time, and ALL four appear on the sour grapes site. In the end it will be the voters who make the final decision on April 9th.
More Updates:
4-6-2013
If anyone is trying to find a financial link between the Community Commitment slate and the sour grapes website, good luck! The reason you won't is because of information found on the hosting company's webpage which reads as follows:
FREE for 30 days! Then pay only $4.99 per month.*
Build a Remarkable Website with SiteBuilder!
1 Choose from hundreds of site designs
2 Customize it to fit your business
3 Show the world and get more customers
The sour grapes site was fired up mid-March and by getting the first 30 days FREE, the election will be over and there will be no need to ever pay a monthly hosting fee.
Another Update:
4-7-13
It would appear as though Michael Blum went on a buying spree when he started registering domain names at his choice of registrars including one for himself. Apparently the first one purchased using the highest level domain .com seemed too long to use on signs, etc. so another one was purchased using the next highest level which is .org and the one currently being used by Community Commitment.
Michael Blum decided to buy MichaelBlum.org three weeks later and also "mask" it with the same content as the slates website. Others on the Community Commitment slate were less fortunate and appear to have been left out of one with their own name. Once someone learned the ropes of setting up the free 30 day websites, maybe they decided to buy one for talking trash based on the "coincidences" between the Community Commitment website and the "Sour Grapes" website registration information:
Domain Name:COMMUNITYCOMMITMENT.ORG
Created on 10-06-2013
Registrant Michael Blum
Sponsoring Registrar:Tucows Inc.
Tech Email:DomainSupport@homestead-inc.com
Tech Organization:Intuit Websites
Domain name: COMMUNITYCOMMITMENTROUNDLAKE.COM
Created on 10-06-2012
Registrant Michael Blum
Registrar of Record: TUCOWS, INC
Intuit Websites, hostmaster@homesteadsupport.com
Domain Name:MICHAELBLUM.ORG
Created on 10-27-2013
Registrant Michael Blum
Sponsoring Registrar:Tucows Inc
Tech Organization:Intuit Websites
Tech Email:DomainSupport@homestead-inc.com
Domain name: "SOUR GRAPES".COM
Created on 3-13-2013
Private Registration
Registrar of Record: TUCOWS, INC
Tech Organization:Intuit Websites
Tech Email:DomainSupport@homestead-inc.com
Now, if the voters in Round Lake are still not convinced that there is a snake in the grass, guess who bought the domain name that Citizens First registered with the County? None other than Michael Blum as shown below:
Domain name: RLCITIZENSFIRST.COM
Administrative Contact: Blum, Michael
Record created on 10-Nov-2012
Registrar of Record: TUCOWS, INC
Anyone typing in this domain name is taken to the Community Commitment website. Are you beginning to see a pattern here like I do regarding their dirty politics?