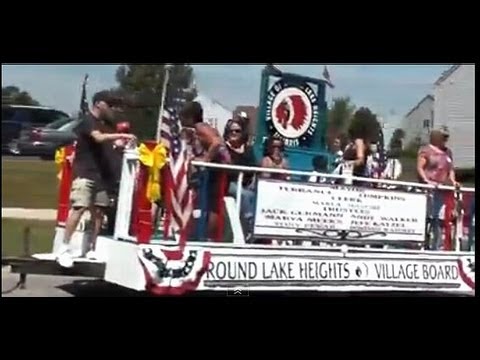 With the Round Lake Heights Festival Parade route winding through neighborhood streets, rather than on a busy road, it allows local residents to sit in their front yards with friends and family or walk to the parade route.
This years Round Lake Heights Festival Parade is Saturday, July 13. The parade staging and line-up begins at 10:00 AM in the 900 block of Black Cherry Lane. Please enter from Fairfield Road if you have a vehicle in the parade. There will be shuttle bus service to take supporters/walkers from the parade END to the staging area so that when you finish the parade, you will be at your vehicles.
The parade begins at 11:00 AM in the 900 block of W. Black Cherry Lane, proceeds east to Lotus Dr., then south on Lotus Drive and ends at Rollins Road. The total length of the parade is 1.1 miles. Participants and viewers are welcome to park at Family Video, located at 724 W. Rollins as well as old ColorTyme, 715 W. Rollins, or at the Indian Hill Elementary/Round Lake Middle School, 2000 N. Lotus Dr which is about four blocks from the staging area.
The Festival will follow immediately after the parade on the Village grounds located at 619 Pontiac Court.
Check back here on Sunday for a video of the parade and an updated report. Hope to see everyone there!