Absolutely The Best We've Ever Had!
For those of you who attended this years Beachfest 2013 I'm sure many of you left still thinking about some of your favorite attractions. Since the festival lasted for three days there was ample opportunity to take in additional attractions and events scheduled for different days.

I started off Thursday night videotaping the Miss Round Lake Area Pageant. That was followed by a late afternoon into early evening visit on Friday, spending a lot more time inside on Saturday looking over all the crafters goodies, and enjoying the lowrider car show on Sunday along with taking in some of the great sounds coming from the main stage. In the evenings I sorted through all the photos and videos that I shot, waiting until it was all over to finally put together a video that I hope you enjoy watching. Some of the videos taken of events under the Children's Pavilion, like the police dog demonstration, turned out to be too dark to use. That was also the case for anything happening on the Cultural Stage like the Community Band playing with the bright sun directly behind them. It turned out to be just a big shadow and wound up on the cutting room floor.
The portion that I shot of the carnival was taken on Friday night when the rides were just getting fired up and people were starting to arrive, which is why you won't see too many people on the rides. I left before the brief shower on Saturday night but other than that the weather was certainly perfect for being outside.
Kathy Hill did a wonderful job chairing this event and along with her staff and volunteers I take my hat off to each and every one of you. In a Facebook post that Kathy added late Sunday night after soaking in her tub, she said the gears were already grinding with ideas for next years Beachfest. It's going to be tough to top this years! Enjoy the following video. If you play it until the end you are in for a surprise!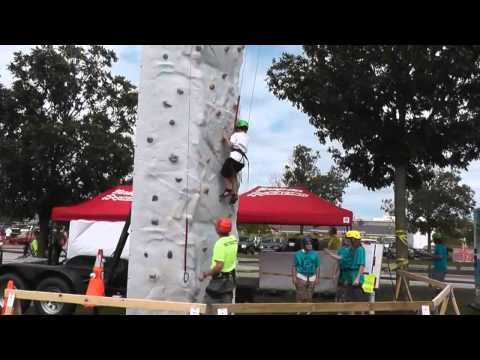 For those of you who may not be aware of it, you can click on the little square box in the lower right corner of the video to watch it "full screen" and in high definition. Then simply click on the Esc key to revert back to this page when you are done.