On Saturday, August 24, 2013, local radio station WRLR 98.3 FM held their 4th Annual GEO Awards event. A list of more than 100 people, that read more like a local Who's Who list, attended the event and were treated to a delicious buffet dinner catered in by Ania's Polish Buffet and Deli with locations in Round Lake Beach and Lake Zurich. The Master of Ceremony was Mick Cullen, assisted by WRLR's Program Director, Cheryl Dunlap. The GEO Award trophy is awarded to those persons and organizations who have excelled in supporting WRLR 98.3 with their time, talents, and financial support, and other good general works in the community. The event is named after the late Senator Adeline Geo-Karis who was an early and dedicated supporter of WRLR.
This years GEO Award winners were Bill Gentes, Elena Lara, Paul Lepek, Kathy Meyers, Michelle Eyre, and Pete Tridish. Also receiving GEO Awards as "Members Extraordinaire" were Mick Cullen, Rich DiDomenico, Cheryl Dunlap, Jason Hutchinson, Jim Wunderlich, and Chris Zeman. Many others who produce and host their own shows as well as many supporting players who keep things running at WRLR were recognized with individual awards as well.
I was invited as a guest of Elena Lara who was the first person associated with WRLR to ever be selected for a GEO Award two years in a row. Congratulations, Elena! I was honored to be your guest.
The stage lighting was not very conducive for shooting a good video, thus the results turned out very poor and went thru some very intensive enhancements to try to salvage it. There were two entertainers on the agenda for the event and both are local talents. The first to entertain everyone after the awards were presented was Dave "Elvis" Thomas and the second was young Andre Reilly with his band called Andre And The Giants (which includes his Dad). The lighting for "Elvis" was decent so I have included several clips of his performance below in a separate video.  Andre's band focused about eight or ten bright lights directly at the audience so videotaping his group wasn't possible.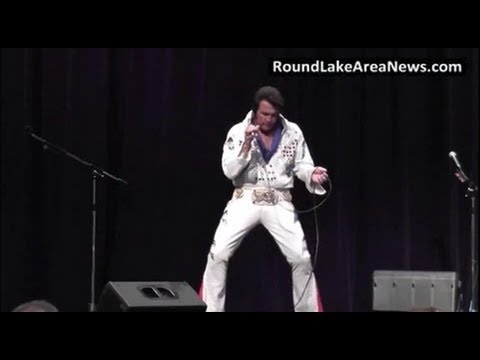 Below is just the portion of the awards event showing those who received the GEO Award. Due to poor stage lighting the video has been enhanced as much as possible to show the individuals without making it too "pasty" looking.